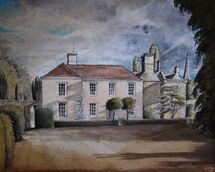 Richard Wilkin paints architectural portraits mainly in watercolour supported by pencil. He specializes in portraits of clients' houses, their former colleges and schools. Richard Wilkin accepts commissions and his charges are reasonable.
Richard Wilkin is a former Director General of the Historic Houses Association and Chairman of the National Trust Wessex Region. He has a lifelong enthusiasm for buildings and has worked for several years, largely in Oxford, with Hugh Buchanan, Britain's leading watercolour exponent of the architectural medium, and is much influenced by him.
He is also an associate of the Armed Forces Art Society, has exhibited at The Mall Gallery in London, in Oxford and in Devon and won the AFAS Cuthbert's Mill Prize in 2011.
This site shows a selection of Richard Wilkin's completed works to illustrate style, media and techniques
Contact:
Cerne River Cottage
Cerne Abbas
Dorset DT2 7JR
richard.wilkin@btinternet.com
01300 341 969